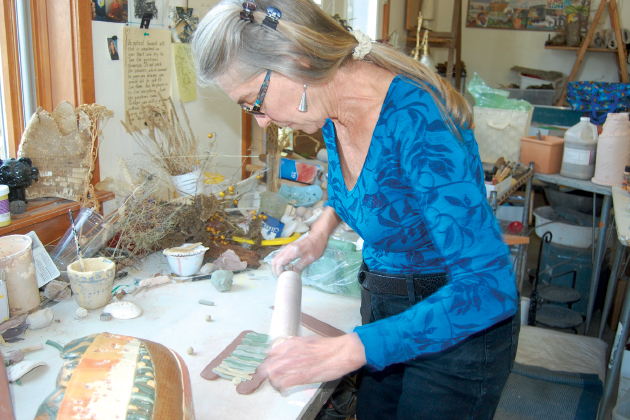 Lakeway Paints Picture of Hill Country Arts District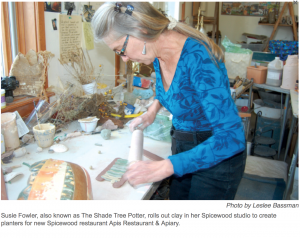 From the front page of February 2015 edition of the Community Impact Newspaper:
Concept adds visual, performing arts venues
While living in Flower Mound for the past 21 years, Lynda Dickey said she used her fine-arts background to develop an art history program for kindergarteners. She also reported on fine art and performing arts events for local newspapers. However, when the West Cypress Hills resident relocated from the Dallas suburb to Spicewood in September, she was surprised to find the region lacked an arts center—an area focused on museums, art galleries and theater.
"What I do miss is an arts area," Dickey said. "This area is so full of art lovers and art in general. I would love to see a full-fledged Hill Country arts museum."
Lakeway staffers are sympathetic to Dickey's concerns as well as feedback received from other area residents who desire a local source for galleries, theaters and arts venues.
On Jan. 20, Deputy City Manager Chessie Zimmerman rolled out a concept plan for an arts district to be located behind the Oaks at Lakeway, the city's new town center under construction.
"Lakeway [is] known as a community that supports the arts and as a community of artists," Zimmerman said. "We have this very vibrant but decentralized arts culture. The backbone of this project would be a home for all of the different kinds of arts in our community."
She said the district may include a gallery, museums, art studios, a performing arts center that may double as a live music venue, classrooms and a sculpture garden. Some commercial uses related to the arts may include businesses, such as a gift shop, cafe and arts supply stores, she said.
Zoning first
The property proposed for the district is a 130-acre tract in the middle of Lakeway.
If this tract was not dedicated to performing and fine-arts uses, it would most likely be developed for high-density use, City Manager Steve Jones said.
"[The tract] can develop tomorrow with apartment complexes or some type of high-density residential, which is OK, but there's nothing unique about that," he said. "The [other] option is that it will eventually develop as a typical commercial shopping center, and I think the world has plenty of those."
Mayor Dave DeOme said the city's concept proposal for an arts district is important because Lakeway is getting a leg up on development.
"We're changing the process by which we specify the zoning for a piece of land," he said. "What [usually] happens is the actual use is requested by a developer, so we end up being kind of 'the judge'—asking [whether] it fits the ordinance [or] is compatible with the neighborhood.

"What we're saying here is that, [as a city], we want to be the initiator of the zoning. We have a vision of what we would like [the tract] to be, and we want to get ahead of the sale of this property and the zoning of this property."
A sale price for the Stratus property tract can only be determined once its zoning is known, DeOme said.
"The minute this land comes up for sale, [developers] will look at it as high-density housing," he said. "The citizens, I believe, strongly don't want that."
Benefits of cultural districts
In 2005 the state Legislature authorized the Texas Commission on the Arts to designate cultural districts in an effort to strengthen a community's arts culture. In 2009 the commission selected seven communities to participate in its cultural district pilot program, including Austin.
A 2010 report by the Texas Cultural Trust, a nonprofit organization designed to increase awareness and support for the arts, stated that within the first year of designation, these cultural district cities experienced positive outcomes—including new businesses, expanded marketing, and greater collaboration between arts groups and local government.
A Jan. 26 TCT State of the Arts report found that although out-of-state visitors travel to Texas for a variety of reasons, arts and culture are included as a major reason for tourism.
Texas' creative sector employs about 730,000 workers, the report said. According to employment forecasts produced by the Texas Workforce Commission, this sector is projected to increase by 22.2 percent, or 170,000 new jobs, by 2022.
Chad Bockius, chairman of the Bee Cave Arts Foundation, said the city's sculpture park helps to bring visitors to the area and create a sense of community with residents.
"[The park] was absolutely a draw for visitors and tourism," he said of the garden that opened in 2013. "We saw it listed on [the] TripAdvisor [website]. People took holiday pictures there."
Local artists Rae Andrews and Janet Sopp-Sims said they would like to display their art in the community in which they live but cannot because the area lacks dedicated gallery space.
"We have very limited places to show our work other than churches, libraries, hospitals or schools," Andrews said. "People are not going there for the purpose of art.

"You can produce the art, but getting it out there—having a venue—is the problem. It's very discouraging as an artist."
The concept of an arts district could bring in national headliners, bands and musicians and also provide local artists with a home, said Jarret Mallon, marketing and communications director at TexArts, a nonprofit performing arts education and theater venue located in Lakeway.
"It is a tremendous opportunity for artists and residents who don't want to travel downtown for the arts," he said.
Lakeway resident Victoria Dawson said she owned an art gallery in San Francisco for three years before moving to western Travis County in 2009. She said the arts community in the Bay Area was very strong, but now she must travel an hour each way for her children to visit museums in Austin.
"I'd like to see a children's or science and technology museum here," Dawson said. "There's a wonderful synergy with the science, technology, engineering and mathematics, or STEM, programs in my children's schools."
The TCT report found a correlation exists between educational achievement and the arts—Texas students who completed more arts course credits had better attendance and performance on state assessment tests.
Added traffic concerns
It is not the city of Lakeway's obligation to fix the traffic problem in the region by not developing its property, DeOme said.
"The answer is not to stop development [for fear of more traffic], not to stop providing the citizens with services they want and need," he said. "If our citizens don't have the opportunity to [stay in town for the arts], they're just going to drive somewhere else [to get that experience]," he said. "The idea that you're creating traffic? I don't buy into that idea because people will go where they want to go to get the services they need."
Funding
Zimmerman said Lakeway may provide financial incentives to developers to promote the arts district, including the streets and drainage for the project, which she estimates will cost the city about $4 million to $5 million. The arts district may also require the creation of a local consortium involving Hill Country entities—such as nonprofit and governmental agencies—to move forward, Zimmerman said.
"I think for the [arts district] to be successful it needs to be a regional approach," she said. "Imagine if [the Lower Colorado River Authority] had a place to showcase the Highland Lakes and show a model of how important they are to our region?"
She said the city would most likely engage in a public-private partnership for the projects within the district and look to the community for sponsorships or donors.
Next step
During its January meeting, City Council gave Zimmerman the green light to explore the concept of a Lakeway arts district. City staffers will be collecting input from residents and the arts community before drafting a zoning category for the planned unit development, Zimmerman said she hopes to have zoning in place by April.